You are cordially invited to attend the services of The Church of the Lord Jesus Christ of the Apostolic Faith. Come and hear the world's foremost minister, Bible analyst and authority on the divinely inspired Word of God, Bishop Shelton Rapha Chabash Luke, preach the Whole Truth Gospel in its fullness according to the Holy Scriptures, as it was preached on the day of Pentecost.
We are temporarily located at :
440-448 West Penn Street
Philadelphia, Pennsylvania 19144
U.S.A.
PHONE: (215) 848-1200
FAX: (215) 848-1204
E-mail: apostle@apostolic-faith.org
APOSTOLIC EPISTLE
ON THE SUBJECT OF RIGHTS OF SUCCESSION
---
Statement of Apostolic Policy
You are cordially invited to The Church of the Lord Jesus Christ of the Apostolic Faith regardless of race, creed, color or place of national origin. We ask however, that you abide by our Apostolic rules and the women have head covering and not wear pants.
---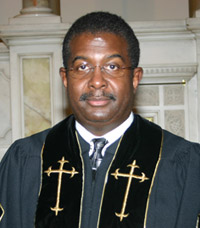 BISHOP SHELTON RAPHA CHABASH LUKE, Apostle and General Overseer
---
PRAYER
Monday - Friday 7:00 p.m. - 8:00 p.m.
Sunday 11:00 a.m. - 12:00 noon
Sunday Noonday Service
1:30p.m.
Thursday Night Service
9:00p.m.
---
Coming Events
November 2017
Thursday, November 16th thru Sunday, November 19th: Commemoration Services for Bishop S.C. Johnson's Bringing Forth Day, November 24, 1896
Thursday, November 23rd thru Sunday, November 26th: Bishop Shelton Rapha's Apostolic Journey to Atlanta Georgia. Services to be held God willing at the Westin Buckhead Hotel Atlanta, 3391 Peachtree Road N.E. in the Buckhead Ballroom, Second Floor (lobby level) on Thursday, November 26th, Prayer begins at 8:00 pm and services starts at 9:00 pm and Sunday, November 29th, prayer begins at 11:00 am and services starts at 12:00 noon. All are welcomed.
December 2017
Sunday, December 3rd: Celebration of the 23rd Anniversary of the Re-emergence of the Whole Truth Radio Broadcast (Actual Day, December 5, 1994)
Thursday, December 28th thru Sunday, January 1st, 2018: Apostolic Missionaires Special Fellowship Services
Coming events will be updated as appropriate. Continue to check the calendar for the next fellowship or event(s) and may the One Lord bless you through His Almighty name, Jesus Christ.
Thank you for visiting our website!! We look forward to seeing you and may God bless you.